Welcome to the 26th edition of Good Reads: The Bates College Non-Required Reading List for Leisure Moments.
Since its inaugural edition in 1997, compiled by now-retired Bates College Store director Sarah Emerson Potter '77, Good Reads has provided a peek at the shelves of Bates alumni and current and retired staff and faculty. Now, Alison Keegan, in the Dean of the Faculty's Office, collects the submissions and compiles the list.
"This continues to be a labor of love that I fortunately had passed on to me by Sarah Potter," Keegan writes. "This issue is dedicated to all those who, even in the most uncertain of times, find solace and comfort in the written word."
This year, we have collected 180 titles, so take your pick: fantasy, romance, history, mystery, sci-fi, psychology, social issue, or memoir — all of these come recommended by the people of Bates.
This year, seven titles received two or more recommendations:
Piranesi by Susanna Clark
Invisible Child by Andrea Elliott
Killers of the Flower Moon by David Grann
The Midnight Library by Matt Haig
The Lincoln Highway by Amor Towles
On Earth We're Briefly Gorgeous by Ocean Vuong
This is Happiness by Niall Williams
Get ready to meet your new favorite book!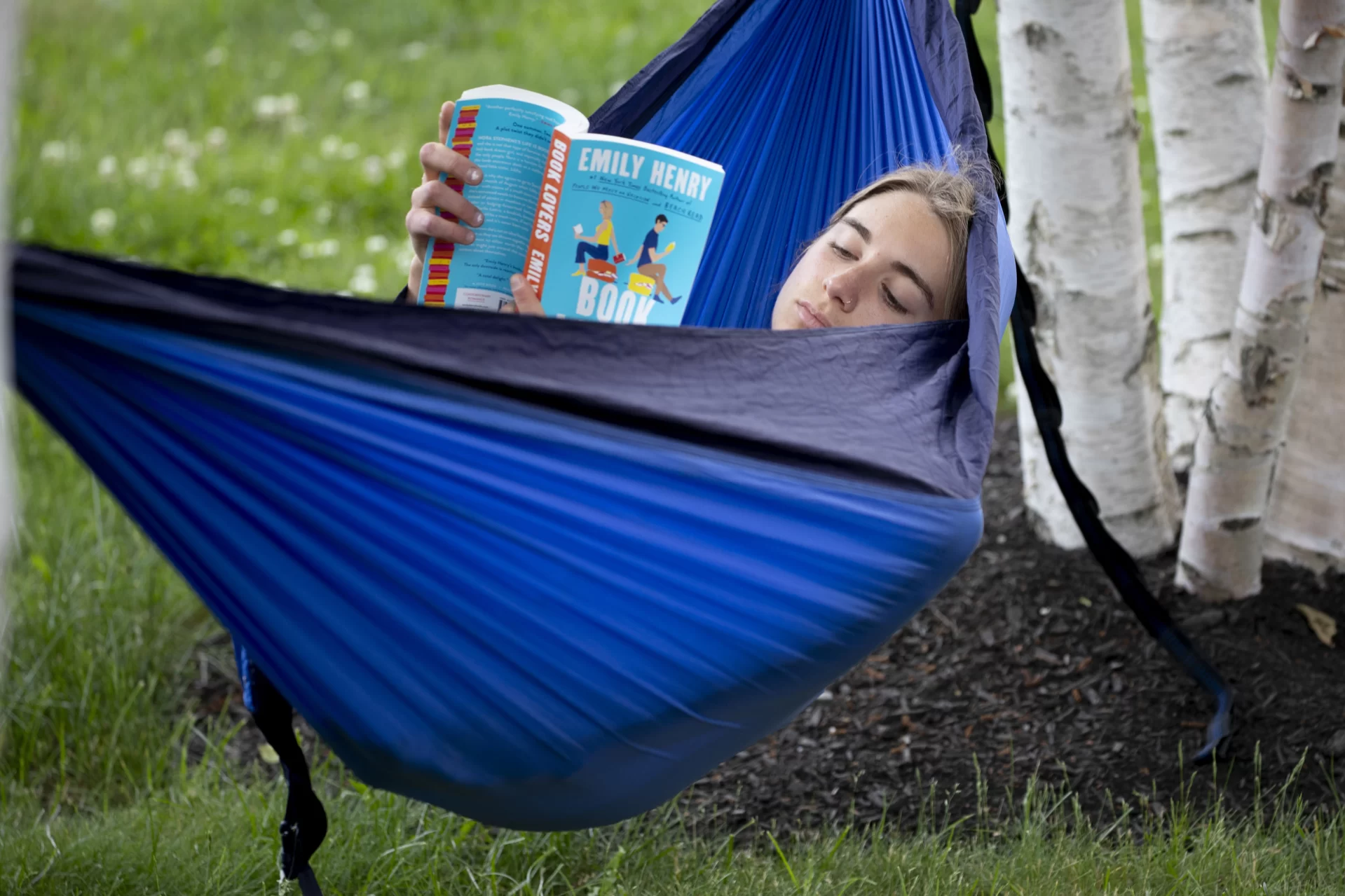 ---
Tobie Akerley Gordon, Academic Administrative Assistant
Ain't Burned All the Bright by Jason Reynolds. This is unlike any book you will ever read. If you can, grab the actual book so you can feel it in your hands while you turn the pages. It is composed of just three sentences — yes, three sentences, yet it conjures up so many feelings. The illustrations are just as essential to the book as the words you will find within it. If you want to learn more about the author you can listen to Brené Brown's podcast, Unlocking Us: Brené and Jason Reynolds on Masterpieces and Messes , where they discuss how his life has influenced his work.
The Midnight Library by Matt Haig. This was a tough book to get through but so worth it. Have you ever wished you could go back and change a decision you made in your life? Is it because you assumed that if you had decided differently your life would have turned out so much better? This book will make you rethink all of that. 
---
Áslaug Ásgeirsdóttir, Professor of Politics
Free: A Child and a Country at the End of History by Leah Ypi. Leah Ypi grew up in Albania during the abrupt transition from communism to capitalism. In recounting the absurdities that occurred during this transition, the book is filled with astute observations, both humorous and painful, about navigating a life in a country where the state has deemed you to have the "wrong past."  
Where you Come From by Sasa Stanisic. Loved this book from a Bosnian-German writer. He weaves together memories of youth, that can be true or not, as he writes lovingly about his grandmother's decline from dementia, and how he and his family came to flee to Germany during the war in Bosnia. 
Devil House by John Darnielle. A writer moves into a house in a down-on-its-luck California town to write a book about murders that took place in the house. Written as a true crime story, it is pretty critical of the genre while offering an interesting plot. 
Piranesi by Susanna Clarke. The made-up story in this book is intricate and mysterious, as is Piranesi being there. The mystery is very clever. 
A Terrible Country by Keith Gessen. Funny book about a man who returns to Moscow to take care of his aging grandmother. He discovers Moscow over time, a city that is both beautiful and brutal. 
The Girl Who Died by Ragnar Jónsson. A young woman moves to remote Langanes in Iceland to teach the only two pupils in town. Of course, the town has secrets. 
Fake Accounts by Lauren Oyler. Young woman has a boyfriend she does not like very much, but before she gets a chance to break up with him he dies in an accident. Of course, she then decides to move to Berlin. Oyler has a knack for writing self-consciousness very well, which fills in a plot that is often submerged. 
---
Tonya Bailey-Curry, Staff Therapist, Counseling and Psychological Services
One of the most impactful books I read this year was Atlas of the Heart, by Brené Brown. I have not only read this book multiple times, I have gifted it to so many others to do the same. Brown takes readers on a deep dive in understanding what it truly means to be human and explains why the relationship with yourself is the key to connecting to others in a meaningful way. This is a must-read!
---
Laurie Baker, Visiting Assistant Professor of Digital and Computational Studies
Undrowned by Alexis Pauline Gumbs.
---
Pamela Baker, Helen A. Papaioanou Professor Emerita of Biological Sciences
Tru Biz by Sara Nović. The author is a young Deaf woman. The book is a riveting novel and is also a very good introduction to Deaf Culture, American Sign Language and to the eugenics of today.
---
Michael Becker, Visiting Assistant Professor of History
I find myself returning again and again to Patrick Chamoiseau's Texaco. It is a historical epic, focused on the story of the fictional Caribbean shantytown of Texaco, as a window to the recent past and current problems facing the region. It grapples thoughtfully with topics like the afterlives of slavery, colonialism and neo-colonialism, labor and class politics, and generational trauma. The translation to English by Rose-Myriam Rejouis and Val Vinokur is a great introduction to this brilliant Martinican novelist not yet well known in the US.
---
Jen Blanchard, Senior Writer and Assistant to the President
I really enjoyed Zorrie, by Laird Hunt. It's one of those small yet epic tellings of a single, particular life that is beautifully wrought and wonderfully resonant and relatable, even if you never were an Indiana farmer in the middle of the twentieth century.
---
Jonathan Cavallero, Associate Professor of Rhetoric, Film, and Screen Studies
Shanghai Girls by Lisa See follows two sisters who readers meet as teenagers in pre-1937 Shanghai. See then demonstrates the ways various immigration policies affect individuals by charting the characters' life histories as they journey from China to the U.S. As soon as I read the final page, I was anxious for a sequel, which conveniently comes in the form of Dreams of Joy, a novel that picks up the story where Shanghai Girls leaves off.  I haven't read it yet, but it is on my list for next year.
Renegades: Born in the U.S.A. by Barack Obama and Bruce Springsteen. Introspective conversations about the American Dream and class, masculinity and fatherhood, music and movies. What's not to like? Listen to the podcast, read the book (which is more or less a transcript of the podcast with bonus material), or do both.
The Cubs Way: The Zen of Building the Best Team in Baseball and Breaking the Curse by Tom Verducci. This one was recommended to me by a dear friend who may be the biggest Cubs fan I know.  It offers a behind-the-scenes account of the steps that were taken to break the curse of the Billy Goat.  It's a wonderful read and shows the power and limitations of sabermetrics.
Killers of the Flower Moon by David Grann. Coming soon to a theater near you, Killers of the Flower Moon serves as the source material for Martin Scorsese's next movie.  From the 1910s to 1930s, dozens of Osage Native Americans were murdered or otherwise died under suspicious circumstances.  At the time the tribe represented one of the world's most prosperous populations, thanks to the oil rights leased on their land.  The book follows efforts to solve the mystery, uncovering yet another instance of a Native American population being exploited by White people.  I kept shaking my head not just at the story itself but the fact that it has so rarely been discussed in U.S. history classes.
A Promised Land by Barack Obama. Obama's first presidential memoir, A Promised Land recounts his upbringing, the events of the 2008 presidential campaign, and some of the key moments of his presidency.  It's a fascinating read, even if you have previously picked up Dreams of My Father and The Audacity of Hope.
---
Karen Daigler, Director of Graduate and Professional School Advising
The Seven Husbands of Evelyn Hugo by Taylor Jenkins Reid. Lots of twists and turns on this journey through the splendor of old Hollywood into the harsh realities of the present day as two women struggle with what it means and what it costs to face the truth.
Write My Name across the Sky by Barbara O'Neil. Set in NYC, this story is about three women having to reckon with and reconcile their interwoven traumas, past loves, and the looming consequences that could either destroy their futures or bring them closer than ever.
The Singing Trees by Boo Walker. Set in Maine in 1969, this young woman from a small, stifling factory town and a large Italian family, is determined to pursue her dream of becoming a painter. 
Love and Saffron by Kim Fay. A light but quick, fun read, this novel is a witty story about food and friendship.
The Last Thing He Told Me by Laura Dave. This is a mystery about a woman searching for the truth about her husband's disappearance at any cost. 
---
Elizabeth Durand '76
Fire Keeper's Daughter by Angeline Boulley. You will find this in the YA section of the library or bookstore, but only because the main character is a teenager. The book is sophisticated and beautifully written. The main character is the daughter of an Ojibwe father and a white mother; the book deals with the conflicts inherent in her life specifically and between life in the Ojibwe community and life in the world outside that community. It's won several awards. I was happy I found it before it received that public acclaim, because it was a great discovery. Highly recommended.
Write for Your Life by Anna Quindlen. Why writing still matters, and why you should at least write a real letter now and then.
Daisy Jones and the Six by Taylor Jenkins Reid. This is fiction, but it feels like a Rolling Stone feature article. 
Finally, I found a new mystery author. Julia Keller has published 12 books (so far) in her Bell Elkins series. Like Louise Penny and Julia Spencer-Fleming, she uses her setting almost like another character. You will feel steeped in West Virginia. You must read these books in order for the best experience — the first one is A Killing in the Hills.
---
Francis Eanes, Visiting Assistant Professor of Environmental Studies
Raising Expectations and Raising Hell by Jane McAlevey
A Collective Bargain by Jane McAlevey
Bullshit Jobs by David Graeber
The Dawn of Everything by David Graeber and David Wengrow
The Betrayal of Local 14 by Julius Getman
---
Ken Emerson, Director of Compensation and Benefits
Lies my teacher told me: Everything Your American History Textbook Got Wrong by James W. Loewen. This book is copyright 1995 but I believe still stands true for the most part today. It is an interesting look at how high school textbooks get published and the various reasons why they may not provide the most accurate information or leave information out completely. Some of the historical information presented you may find interesting.
Music is the Drug: The authorized biography of Cowboy Junkies by David Bowler.  I first saw Cowboy Junkies after having moved to Maine. I grew up with them on the radio but did not own an album until I saw them live. It is an interesting study of both how a band stays together and keeps making music over 35+ years but also how the music industry has changed during that time. The Junkies went from producing their first couple of albums on their own, to a major label contract, back to producing music on their own through the early days of the internet and now digital streaming. As the band members discussed different records I found myself searching for them on youtube and giving them a listen with a new understanding of the songwriting and recording process.
---
Melinda Emerson, Retired Colleague
Falling by T.J. Newmann. Terror in the sky, told from an attendant's point of view.
Where the Crawdads Sing by Delia Owens. Such a beautifully written book. Can't wait for the film to come out.
Faye Faraway by Helen Fischer. For fans of The Time Traveler's Wife and Outlander, the story is about loss, faith and love as it follows a grown woman who travels back in time to be reunited with her mother.
The Singing Trees by Boo Walker. A young artist, in Maine in 1969 forges a path of self-discovery, forgiving the past, and embracing second chances.
Carnegie's Maid by Marie Benedict. A mesmerizing story of love, power and the woman who inspired an American dynasty.
Go Tell the Bees That I am Gone by Diana Gabaldon. The 9th book in the Outlander series. It's not done yet.
Braiding Sweetgrass by Robin Wall Kimmerer. Love of Mother Earth and how we interact with it.
Salt to the Sea by Ruta Sepetys. A story about the single greatest tragedy in maritime history, the little-known January 30,1945 sinking of a German cruise liner by a Soviet submarine.
State of Terror by Hillary Rodman Clinton and Louise Penny. A high-stakes thriller of international intrigue.
Dead by Dawn by Paul Doiron. His books are always good. This one features the Androscoggin River. 
---
Marina Filipovic, Lecturer in Russian
Leeches by David Albahari. The whole book is written as a 300-page paragraph. The conspiracy-minded narrator tries to decode a manuscript that rewrites itself every time he opens it. Living in a stifling Belgrade atmosphere, fostered by Serbian nationalism in the late 1990s, the already paranoid protagonist turns to, no less absurd, esoteric thinking in his attempt to circumvent reality. 
An engagingly clever and well-crafted postmodern prose. You should give this unusual one-paragraph novel a close read!  
---
Hilary Gibson, Synergy Intern, Bates Museum of Art
Piranesi by Susanna Clarke
---
Dan Girling, Mail and Materials Handling Clerk
The Anthropocene Reviewed by John Green. Adapted from Green's podcast of the same name, this book is a collection of essays, each one about a specific topic from the Anthropocene (the current geological age where humans are the dominant influence on the planet). The essays range from humorous to thoughtful, offering insight on diverse topics such as Halley's Comet, Diet Dr. Pepper, teddy bears, air-conditioning, Monopoly, and viral meningitis, among many others.
Goodbye, Again by Jonny Sun. In this non-fiction book, Jonny Sun uses stories from his own life to explore a variety of topics: happiness, loneliness, anxiety, and social pressure. I enjoyed the fact that, even when he is discussing serious feelings, Sun remains humorous and hopeful throughout.
Project Hail Mary by Andy Weir. This novel begins with a man named Ryland Grace waking up aboard a spaceship. Suffering from amnesia, he soon discovers that he's the last surviving member of a mission to save Earth. Ryland attempts to complete the mission without the rest of his team, depending on his fractured memories and some assistance from an unlikely source. Like Weir's previous books, Project Hail Mary is a thrilling science fiction story that is grounded in real-world physics and details.
Klara and the Sun by Kazuo Ishiguro. This novel is told from the perspective of Klara, a robotic assistant who must care for a sick girl named Josie. As she tries to find a cure for Josie's illness, Klara often struggles to understand the human world but at times has unique insight, noticing things that others miss. I appreciated Ishiguro's commitment to staying within Klara's point of view, even when her limited understanding leaves some details obscured.  
---
Dennis Grafflin, Professor Emeritus of History
The Smallest Lights in the Universe: A Memoir by Sara Seager. Add this to the growing shelf of fascinating memoirs by brilliant women scientists who place themselves firmly on the autism spectrum. Professor (at MIT) Seager's fierce and brutal descriptions of herself and others are the most riveting parts of the book, but along the way you also learn about her leading role in the search for planets outside our solar system, especially small, cool, rocky ones that might support something that we could recognize as life.
---
Bruce Hall, Network Administrator
I recommend Devolution: A Firsthand Account of the Rainier Sasquatch Massacre by Max Brooks. One question it asks is what happens when a very small community in the wilderness loses its technological connections to the rest of the world due to a natural disaster. The novel's subtitle gives a hint of an unexpected challenge: yes, this is a book about Bigfoot and a volcano. While the exact circumstances are a bit of a stretch, the situations faced and decisions made are thought provoking. If you are thinking you can wait for the movie version, I would not recommend that. While Brook's earlier Zombie novel World War Z was made into a movie, the book was much better and almost totally different. 
---
Bill Hiss '66, Retired Colleague
The Sale of the Late King's Goods: Charles I and His Art Collection by Jerry Brotton. Charles I amassed an immense art collection of mostly European masters, spending a fortune. He sort of lost his head over art, most of which was never seen by any but a few family, senior nobles and retainers, and then really lost his head, to Cromwell's puritan revolution. Cromwell needed money, and ordered one of the largest and most poorly run art sales in human history. Eventually after the Restoration, the Crown bought a great deal of the art back, where to this day much of it is hung in palaces infrequently seen by the public. 
Travels in Siberia by Ian Frazier. A travel book, but in the way that Moby Dick is a book about whale hunting; one critic deemed it a sort of On the Road meets The Gulag Archipelago. Frazier rides the 6000 miles of the Tran-Siberian Railway, with many, many side trips into history, famous (or infamous) residents, appalling conditions, abandoned labor camps and mines, and broken-down vehicles. Somehow, it is a spellbinding stew of tragedy, information and dark humor. I will get two of his other widely heralded travel books, On the Rez and Great Plains.
The Amur River: Between Russia and China by Colin Thubron. The Amur River, 3,000 miles long from Mongolia to its outlet in Siberia, is also the boundary between China and Russia for 1,100 miles. A wonderful travel writer and journalist, undertaking this exhausting trip in his early 80s, Thubron is the author of 10 other travel books and 8 books of fiction.
Harlem Shuffle by Colson Whitehead. Most readers find Whitehead through his Pulitzer-Prize winning novel The Underground Railroad, but he won the Pulitzer twice, and has written 10 books. Harlem Shuffle, just published, is a novel about an owner of a furniture store on 125th Street trying to run his business while surrounded by corruption and crime, both from Harlem and the white world around him. I found myself reading attentively, stopping to savor wording. Unlike Underground Railroad, this novel is fully realist, but acerbic in its portrayal of the kind of survival in Harlem requires.
Rock Force by Kevin Mauer. In comparison, the retaking of Corregidor from the Japanese toward the end of WWII was a relatively small engagement: a regiment of paratroopers was dropped onto the stone spine of Corregidor with orders to clear "The Rock" of 6700 Japanese troops, with U.S. ground troops landing below the innumerable tunnels in which the Japanese were dug in, and Naval vessels shelling the caves to try to prevent Japanese counter-attacks. A small engagement, but a haunting account of the bravery and losses of the paratroopers. 
The Writing of the Gods: The Race to Decode the Rosetta Stone by Edward Dulnick. I like the odd backstories of history, the little eddies. This is a wonderful book on the multi-thousand year history of trying to translate the Egyptian hieroglyphics, and two titanic intellects, French and English, who broke through in the early 1800s. Dulnick is skilled at explaining the endless struggles to decode the pictographs with comparisons to modern code-breaking, and with a humorous touch in describing the spats between the geniuses, each of whom needed the other but resisted admitting it. 
The War of Jenkins' Ear: The Forgotten Struggle for North and South America, 1739-1742 by Robert Gaudi. In the roughly 200 years after the initial explorations of the Americas, there were steady conflicts between Spanish and British empires over the control of the fertile, profitable lands of South America, the Caribbean, and what would later be the American southern states. Often these struggles were waged by proxy forces: English privateers, Spanish "customs inspectors" who would seize British ships found with any evidence of trading in the Spanish empire (one short-tempered inspector cut off the ear of a British captain), and lots of coastal raids. Native peoples — always caught in the middle — were wooed by both empires, and a sustained ground war broke out between the Spaniards in Florida and the British settlers in what would later become Georgia.  
Dietrich Bonhoeffer, 1906-1945: Martyr, Thinker, Man of Resistance by Ferdinand Schlingensiepen. At 400 pages, maybe TMI, more than we needed to know about the brilliant theologian and ethicist who was executed with other conspirators against Hitler just a few days before the end of WWII. But interesting for the networks of international ecumenical efforts that Bonhoeffer was trying to build to resist Hitler, and hopefully avoid what happened: a European blood bath. Ironically, Bonhoeffer's "cover" while on these trips was as a spy for the German military, whose professional officers were trying to avoid being taken over by the SS as a tool of Hilter's increasingly mad decisions. In the end, most of those officers went to the gallows with Bonhoeffer, as Germany collapsed. 
The Pages In Between: A Holocaust Legacy of Two Families, One Home by Erin Einhorn. The author is an education reporter for NBC News, but this book is an account of a WWII family home in a small city in Poland. Her Jewish family was largely rounded up for Auschwitz, but her grandfather asked a Polish family to hide their infant daughter from the Nazis, and to manage their property. The grandfather survived and retrieved his daughter after the war, making their way to America. Sixty years later Einhorn came to Poland to explore her family history and found the Polish family still living in her family's house, with the older members remembering Erin's mother as a toddler. But many complications ensue, reflecting the layers of Polish history, and the bizarre turns of Polish law: Einhorn cannot establish that she is the heir to the house, because she has no death certificates for her great-grandparents, born in the 1860s and murdered at Auschwitz. A family tree in the front of the book is wrenching, with most of three generations all with death dates in 1943.
The Whiteness of Wealth: How the Tax System Impoverishes Black Americans—and How We Can Fix it by Dorothy A. Brown. The author, a professor of tax law at Emory, traces patterns of tax law — sometimes deliberately racist and sometimes inadvertent, in that hardly anyone was thinking about Black citizens as tax law was written.
---
Emily Kane, Professor of Sociology
Here are some things I read this year that have particularly stuck with me for one reason or another. The first four are fiction, and the last one is a sociological study of neoliberalism and home schooling. 
At the End of the Matinee by Keiichiro Hirano
The Seedkeeper by Diane Wilson
The Love Songs of W.E.B. DuBois by Honoree Fanonne Jeffers
Bewilderment by Richard Powers
The Home School Choice: Parents and the Privatization of Education by Kate Averett
---
Alison Keegan, Administrative Assistant and Supervisor of Academic Administrative Services
Malibu Rising by Taylor Jenkins Reid. Jenkins Reid is a master storyteller. Her books are compelling and she is able to weave stories within multiple characters flawlessly and without confusion. This particular story takes place at a party one night in 1980s Malibu. There are flashbacks, backstories, complex sibling relationships, and a flurry of emotions — all ingredients for a well-told tale.
The House in the Cerulean Sea by T.J. Klune. I had heard a lot of buzz about this book and it did not disappoint. Heartwarming and magical, it spun a tale unlike any I'd read before. This is a story about discovering an unlikely family in a surprising place and realizing that you are exactly where you belong. 
The Fortunate Ones by Ed Tarkington. A soul-searching and cautionary tale for anyone enamored with living the high life. This book offers a touching and realistic picture of the uncertainty and angst that comes with being pulled from poor to privileged. 
One Italian Summer by Rebecca Serle. I inhaled this book in a day. The vivid depictions of Positano, Italy and all its charms had me yearning to be there instantly. This is a beautiful book about the unending bond between mother and daughter and how grief can change people and relationships. There are surprising and moving magical/whimsical elements that are made entirely believable by the main character's devotion and love for her mother.     
---
Keiko Konoeda, Lecturer in Japanese
The Mushroom at the End of the World: On the Possibility of Life in Capitalist Ruins by Anna Lowenhaupt Tsing is one of the most fascinating books I read recently. Great on Kindle and audiobook, too.
---
Rebecca Lazure, Leadership Gift Officer
Florence Adler Swims Forever by Rachel Beanland. This book swept me off my feet. It kicks off with gripping action and surprise and then takes you through a family's experiences in Atlantic City in the 1930s. Despite not knowing the area at all, the street names straight from the Monopoly board makes the sense of place surprisingly familiar. Well worth a read. 
---
Perrin Lumbert, Library Assistant
My favorite books of 2020-2022, in no particular order, read during two years of pandemic semi-isolation.
Lean Your Loneliness Slowly Against Mine by Klara Hveberg
The End of the Golden Gate: Writers on Loving and (Sometimes) Leaving San Francisco by Gary Kamiya et al.
Who was Changed and Who was Dead by Barbara Comyns
Swimming in the Dark by Tomasz Jedrowski
With Each Clouded Peak by Friederike Mayrocker
Silence and Silences by Wallis Wilde-Menozzi
Time is a Mother by Ocean Vuong
Written in Invisible Ink by Herve Guibert
Thinking With Trees by Jason Allen-Paisant
Imagine Wanting Only This by Kristen Radtke
The Copenhagen Trilogy: Childhood; Youth; Dependency by Tove Ditlevsen
The Pine Islands by Marion Poschmann
Instinct to Ruin by Lora Mathis
Levant: New Middle Eastern Cooking by Rawia Bishara
Baladi: A Celebration of Food from Land and Sea by Joudie Kalla
---
Chris Marden, Director of Donor Relations
Brené Brown's Daring Greatly has been a thought-provoking inspiration. Also, I loved the audio book The Once and Future Witches by Alix E. Harrow. I expect it is terrific in any form, but it's read by an especially good narrator! 
---
Maggie Maurer-Fazio, Betty Doran Stangle Professor Emerita of Applied Economics
Lately, I've enjoyed three books by Amor Towles:
A Gentleman in Moscow
Rules of Civility
The Lincoln Highway
---
Rich McNeil, Leadership Gift Officer
Here are some great books my wife and/or I have read in the past few months:
Black Death at the Golden Gate by David K. Randall
Anxious People by Fredrik Backman
Project Hail Mary by Andy Weir
The Hour of Land by Terry Tempest Williams
The Lincoln Highway by Amor Towles
Animal, Vegetable, Junk by Mark Bittman
---
Ben Moodie, Visiting Assistant Professor of Sociology
The Secret of Our Success: How Culture Is Driving Human Evolution, Domesticating Our Species, and Making Us Smarter by Joseph Patrick Henrich. This accessibly-written book, also available in audio format, is intellectual dynamite. Henrich puts together a portrait of homo sapiens as a species created when our ancestors stumbled upon a package of cultural knowledge valuable enough to become the main driver of natural selection for our kind. The upshot explains both humanity's explosive cultural diversity and its roots in our shared addiction to learning from one another.
Henrich also has a 2020 book entitled The WEIRDest People in the World which is also intellectually revolutionary, but is best read as a sequel to the first book, and is of more purely social scientific concern. 
---
Kerry O'Brien, Assistant Dean of the Faculty
Small Things Like These by Claire Keegan is my favorite book in a long time. Keegan is a short story writer and with elegant economy she packs this novel with a portrait of a man, a family, and a community in Ireland in the 1980s. What starts out as a Christmas story is a quiet but furious indictment of the infamous "laundries," run by the Catholic Church, where pregnant teenage girls were imprisoned, judged, and abused. The moral compass is not held by the nuns.
This Is Happiness by Niall Williams is another incredible portrait of an Irish town, this time, a remote water-logged village. It starts with a bit of Garcia Marquez magical realism when we read that the rain has stopped for the first time in umpteen years — a signal that change is coming. Electrification is the change, but it is really about all those famously Irish things that endure: heartsickness, longing, unrequitedness. It's a coming of age story for one of the protagonists and, for the other, a look back from life's western slope. It's about the power of stories and memory and imagination. It's an epic story, but told in the minute details of daily life and the interactions of the characters and oddballs who inhabit the town. This is truly a gorgeous book. I hated when it ended.
---
Sonja Pieck, Professor of Environmental Studies
I highly recommend Ocean Vuong's On Earth We're Briefly Gorgeous — incredibly lyrical and haunting.
---
Sarah Potter '77, Bookstore Director Emerita
Mysteries, mysteries, mysteries — this year I read through all of Julia Spencer-Fleming's series. She is a mystery writer living in Buxton, Maine. She creates characters who quickly become familiars. Follow Reverend Clare and police chief Russ beginning with In the Bleak Midwinter.
Because it was on Barack Obama's summer reading list and because I like Kazuo Ishiguro's writing, I read Klara and the Sun. This novel is about a future in which children have artificial friends. Much to think about in this book, and it is probably worth an attentive reread on my part.
A few other notable reads:  
A Death in the Family by James Agee
The Dutch House by Ann Patchett
Chances Are… by Richard Russo
Oh, William! by Elizabeth Strout
And, of course, the latest Louise Penny mystery, The Madness of Crowds.
---
Logan Puck, Visiting Assistant Professor of Politics
My book recommendation is The Twilight Zone by Nona Fernandez, translated by Natasha Wimmer. Fernandez is Chilean and she begins the novel by recounting how a member of Pinochet's secret police walked into a newspaper office and began spilling his secrets about torturing and disappearing dissidents. The book grapples with trauma and memory as it jumps around in time, following and speculating about the secret police agent, his victims, and the narrator who is a young girl when the novel begins. It is a compelling and haunting read that is impossible to put down once you pick it up.
---
Erica Rand, Professor of Art and Visual Culture and Gender and Sexuality Studies
I recommend Light from Uncommon Stars by Ryka Aoki, a super-amazing novel where trans survival skills animate musical gifts, where mentorship confronts a deal with the devil, and where a donut shop houses neuro-divergent intergalactic rescue, and far-from-youngsters are hot.  
---
Jennifer Reaves, Health Services 
The Shack by William P. Young 
---
John Roe, Library Assistant, INN-Reach Coordinator 
England's Dreaming by Jon Savage. Pretty much the definitive history of punk rock in the 1970s.
The Monsters Know What They're Doing by Keith Ammann. For the Dungeons & Dragons enthusiast, based on the blog of the same name.  An entertaining read that serves as a guide to making the game's monsters more dangerous by playing them toward their strengths.
---
Sharon Saunders, Associate College Librarian for Systems & Bibliographic Services
What can I say about these three books?  Just read them.
Oneness vs. the 1%: Shattering illusions, seeding freedom by Vandana Shiva
Doughnut Economics: Seven Ways to Think Like a 21st-Century Economist by Kate Raworth
Undocumented: How Immigration became Illegal by Aviva Chomsky
---
Paula Schlax, Stella James Sims Professor of Chemistry and Biochemistry
I found Suburban Dicks by Fabian Nicieza incredibly fun. 
---
Paul Schofield, Assistant Professor of Philosophy  
Invisible Child: Poverty, Survival, and Hope in an American City by Andrea Elliott. This piece of narrative journalism follows a girl and her family through the New York City shelter system. Some people might remember that the girl, Dasani, was profiled for five days in the New York Times about a decade ago. The author of that series is the author of this book, which she wrote after following her story for the past ten years. It's a great read and I recommend it highly. Here's an anecdote from the book: At one point Dasani takes a field trip with her class to Gracie Mansion. She hopes to see Mayor Bloomberg there, not really understanding that she won't. But going there at all is, for her, like being invited to the White House. The nice parts of Manhattan are just worlds away from the rat-infested room she lives in. Later, when Dasani is profiled in the Times — detailing the horrific ways that society has failed her — she becomes a bit of a celebrity. She reads about herself in the paper, people recognize her on the street, reporters want to talk to her, and strangers donate money to help her. And so, Mayor Bloomberg himself takes notice of little Dasani. Here's his public statement: "The kid was dealt a bad hand. I don't know quite why. That's just the way God works. Sometimes, some of us are lucky and some of us are not." What a guy!
Why It's OK to Love Bad Movies by Matthew Strohl. Strohl gives a sincere and heartfelt defense of movies that are typically disrespected and unloved. His point is decidedly not that it can be fun to mock and ridicule bad movies, but that they can be appreciated as creative and original labors of love. As you read, you'll want to make a list of movies to watch — he discusses The Room, Troll 2, Battlefield Earth, much of the Nic Cage catalog, and so much more. (Luckily, I got COVID right after reading the book, so I was able to dive right in.) Beyond his contagious admiration for the disreputable, Strohl works out what I take to be a novel theory of aesthetics — a view about why we like what we like, and about the role that what we like plays in our lives. 
The Price of Peace: Money, Democracy, and the Life of John Maynard Keynes by Zachary Carter. This is ostensibly a biography of Keynes, and it's got enough gossipy details to be fun. But really, it's a book about Keynes's thought and its influence. The last 100 pages or so take place after his death, and tell the story of how Keynesianism as we understand it today is detached from a lot of what animated Keynes when he was writing. So rather than the perfunctory final chapter of "And here is how so-and-so's influence is still with us", we get a detailed story of the further development of Keynesianism that sheds light on his work and what's been forgotten from it. Also, apparently, Keynes was a big fan of G. E. Moore's Principia Ethica — a book I've read, and which I assure you is very boring — and he ultimately used Moore's notion of an "organic unity" to justify and defend his own sexual liberation. I hadn't known this, but it is nice that someone found a good use for Moore.
Say Nothing: A True Story of Murder and Memory in Northern Ireland by Patrick Radden Keefe. This is a remarkable and astoundingly compelling book about the Troubles. I don't know how to describe it exactly, but it's part history, part investigative journalism, part mystery, and, in the end, part moral philosophy. The author touches on themes of violence, anger, guilt, reconciliation, reparation, memory, and truth-seeking, all with respect to both the personal and the political. Upon finishing it, I wanted to read it again immediately.
Rethinking Reparations by Olufemi O. Taiwo. This is an exemplary piece of political philosophy, quite possibly the best I've read in the past five years. Taiwo is so clear about what he's trying to do and who he's trying to convince, so charitable to other authors, and so willing to engage with history and social sciences (I learned so much that it would have been worth it even if the philosophy were garbage). The book is good for summer because it's so engaging to read; a lot of moral conviction without any grandstanding. And most of all, he really squares up to the problems reparations proponents face. It's the best thing written on this topic and it reminded me why I like political philosophy when it's done well.
---
Sawyer Sylvester, Professor Emeritus of Sociology
Historical Atlas of Maine edited by Stephen J. Hornsby and Richard W. Judd. For born Mainers, as well as those from away, this book has to be the very best cartographic history of Maine. It ranges from the the Ice Age to the year 2000. The blending of text, graphics, artwork, maps, and photographs is masterful. Be warned, the book is pricey — but worth every penny.
The Age of Wood by Roland Ennos. From the very beginnings of human history, the multiple qualities of wood have played an essential part: from the trees from which humans descended, to the shelters which first housed them, from the masts of tall ships to the ties in the railroads, from our houses to our coffins, from fires to warm them and books to read by the fire.
Index, A History of the by Dennis Duncan. A book without an index is a story, however well told. A book with an index is a mine to be searched or all the delights therein.
Let's Bring Back by Lesley M. M. Blume. Oddments for the incurably nostalgic.
Finally, a read in progress: How the Post Office Created America by Winifred Gallagher.
---
Anne Thompson, Professor Emerita of English and Euterpe B. Dukakis Professor Emerita of Classical and Medieval Studies 
Susan, Linda, Nina, and Cokie, The Extraordinary Story of the Founding Mothers of NPR by Lisa Napoli. If you don't recognize the names of these women, you probably won't be interested in the book. Otherwise, it's a treat.
This is Happiness by Niall Williams. Williams weaves a story that takes place sixty years ago in a small Irish village where electricity is finally set to arrive. The narrator looks back on this time without sentimentality, but with love, humor, and regret for a life that was simpler.
Piranesi by Susanna Clarke. Almost everyone I know (including me) raved about this book, but most of us also found it very hard to describe, so you'll have to trust me. It's definitely weird but not just loopy fantasy. A young man lives alone in a strange House of vast size, with halls, corridors and statues, where he spends his days tracking tides that could flood the House. There's one other person, with whom he meets twice a week but about whom he knows almost nothing. The writing is so good and the descriptions so enticing that you may be willing to go along for the ride until you begin to make more sense of this bizarre world. 
---
Darryl Uy, Director of Admission 
Real Life by Brandon Taylor
The Sympathizer by Viet Thanh Nguyen
The Committed by Viet Thanh Nguyen
On Earth We're Briefly Gorgeous by Ocean Vuong
The Song of Achilles by Madeline Miller
The Midnight Library by Matt Haig
The Lost Language of Cranes by David Leavitt
Shuggie Bain by Douglas Stuart
Station Eleven by Emily St John Mandel
She's Not There: A Life in Two Genders by Jennifer Finney Boylan
The Other Wes Moore by Wes Moore
The Imperfectionists by Tom Rachman
The Is How It Always Is by Laurie Frankel
Birds in Fall by Brad Kessler
There, There by Tommy Orange
Good Neighbors by Ryan David Jahn
Beet by Roger Rosenblatt
---
Joe Vari, Head Women's Soccer Coach
Think Again by Adam Grant 
Legacy by James Kerr
---
William Wallace, Lecturer in Education
Invisible Child by Andrea Elliott. Andrea Elliott is a NYT writer who has followed the life of a homeless family for eight years. Her book, in particular, follows Dasani, a 12-year-old girl in the family. As you read the book, Elliott reveals that this family is the product of four generations of homelessness. For me, Dasani personifies the power of the human spirit—an individual whose humanity shows through despite incredible obstacles in her life.  
---
Leigh Weisenberger, Office of Admission
The Great Believers by Rebecca Makkai
Pachinko by Min Jin Lee
The Yellow House by Sarah M. Broom
---
Anne Williams, Professor Emerita of Economics 
This list is unusually long because my 2020 and 2021 lists met with misadventures. And with pandemic isolation I had lots of time to read. I am truly grateful for the Bates Library and its efficiency at borrowing from other Maine libraries. The Kempers' Little Free Library on Pettingill Street was another source of great joy in a time of stress.
Non-Fiction:
Killers of the Flower Moon by David Grann — A powerful account of crimes against the Osage.
Complications by Atul Gawande — A doctor on the fallibility of surgeons, and more.
Tears We Cannot Stop by Michael Eric Dyson — Documenting horrors of the Black experience.                
How You Say It by Katherine Kinzler — Discrimination based on accent is innate.
I always enjoy memoirs, and recommend these:
Born a Crime by Trevor Noah — Both sobering and hilarious.
Being Heumann by Judith Heumann, the incredible activist for disability rights.
Becoming by Michelle Obama — Stunning on many fronts.
The Soul of Care by Arthur Kleinman — Reflections on caring for vs treating a patient.
Ladysitting by Lorene Cary — Caring for a 100-year old mother.
Orange is the New Black by Piper Kerman — An eye opener about women's prisons.
Fiction:
America for Beginners by Leah Franqui — Three contrasting views of the U.S.
A Delhi Obsession by M.G. Vassanji — A love story with complications set in modern Delhi.
Breaking Out of Bedlam by Leslie Larson — Odd experiences and resilience in assisted living.
The Book Woman of Troublesome Creek by Kim Richardson — I learned about pack horse librarians and blue-skinned people in Kentucky
Little Fires Everywhere by Celeste Ng — A "model" family isn't quite what it seems.
Rules for Visiting by Jessica Francis Kane — A delightful story of friendship and discovery.
We Are All Completely Beside Ourselves by Karen Joy Fowler — Thought provoking on humanity and animal rights.
The Every by Dave Eggers — Imagine a merger of Amazon and Facebook.
For escape I read mysteries and occasional science fiction. Favorites by authors I already knew include:
Borderline by Nevada Barr — Rio Grande murders.
The Disappeared by C.J. Box — Searching for a British Celebrity.
The Terminal Man by Michael Crichton — A new medical technique gone wrong.
Camino Island by John Grisham — Mystery centers on rare books.
Squeeze Me by Carl Hiaasen — Set in a fictionalized Mar-a-Lago.
The Girl in the Spider's Web by David Lagercrantz — AI is important to this mystery.
Body Work by Sara Paretsky — Two intersecting murders in Chicago.
All the Devils Are Here by Louise Penny — Gamache takes on Paris crime.
The Order by Daniel Silva — Intrigue after the death of a Pope.
Criminal by Karin Slaughter — A great yarn about a lady cop.
I also enjoyed these books by authors new to me:
Be Afraid by Mary Burton — Forensic artist works a cold case.
Blood Work by Michael Connelly — Heart transplant with unforeseen consequences.
The First Counsel by Brad Meltzer — Set in the White House.
Maisie Dobbs by Jacqueline Winspear —Independent woman sleuth in post-WWI England.
Newcomer by Higashino Keigo – Detective Kaga is understated, but very perceptive.
---
Michelle Williams, Human Resources Coordinator
The Obesity Code by Dr. Jason Fung. A great read about how our bodies actually work and why obesity is such a hard thing to kick. I can't recommend this book enough!
---
Freddie Wright, Staff Writer
Ace by Angela Chen. This book offers an in-depth (and personal) look into Asexuality, and how gender and sexuality influence and are influenced by today's society. Chen also looks into what separates romantic and physical attraction, and how subjective those definitions can be for each person. I recommend it for anyone, whether or not you or anyone you know identifies as ace.